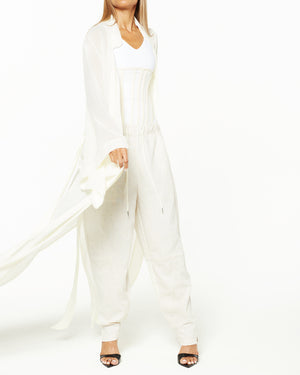 Hanan Unisex Day To Evening Robe - Dove
I really strive to design pieces with multiple functions so you are not just packing less but also buying less. This cream colored robe is also just as versatile as the corset. This is made of a fine lightweight chiffon that flows with elegance with even the slightest gust of air. As you walk it just floats along with you as if you are gliding like a ghost in the night. You can use it as an elegant coverup as you lounge in the cabana, wear this over a tank top and some wide leg linen pants, or with the maillot as an underlay and the corset as an overlay for an elegant gown. But this is not just for women, the confident man can also rock this versatile piece. The options are endless. 
In Ancient Tagalog Mythology, Hanan is the sister of Mayari and Tala and one of the three daughters of Bathala by a mortal woman. The first prayer of the day is given to Bathala, Apolaki, and her as a sign of a new day. She is especially important during the entrance of a new age or a new phase in a person's life. People offer her bountiful harvests and prayers during the birth of a child, entering adulthood, death, entrance of the planting season, beginning of the harvest season, and the start of a new annual cycle. These prayers are only conducted at the break of dawn. In Tagalog animism, the rooster and the dawning sun was Hanan's emblem.
Female model is 5'6" and wearing a Small/ Medium
Male model is 6'0" and wearing a Small/ Medium
Reclaimed 100% Polyester
Hand wash cold, gentle soap, and flat dry. No chlorine bleach.
*RETURNABLE FOR STORE CREDIT ONLY*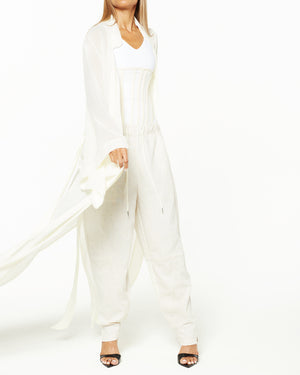 M_SIZEGUIDE
| | | | | | |
| --- | --- | --- | --- | --- | --- |
| | XS | S | M | L | XL |
| WAIST | 29_30 | 31_32 | 32_33 | 33_34 | 35_36 |
W_SIZEGUIDE
| | | | | | |
| --- | --- | --- | --- | --- | --- |
| | XS | S | M | L | XL |
| SIZE | 0_2 | 4_6 | 8_10 | 12_14 | 16 |
| BUST | 34 | 36 | 38 | 40 | 42 |
| WAIST | 22 | 24 | 26 | 28 | 30 |
| HIPS | 34 | 36 | 38 | 40 | 42 |